This recipe for ginger curry roasted cauliflower is bursting with flavor and always seems to disappear in a flash! It's a nutritious and delicious side dish that's always a crowd pleaser.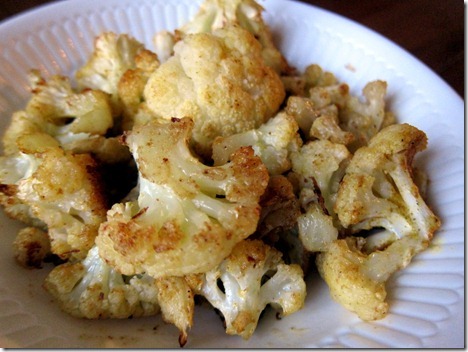 Don't you love it when a simple side dish steps up to the plate and unexpectedly steals the show at dinner?
Last night Ryan and I made buffalo chicken burgers for dinner and while they were quite tasty, a ridiculously easy side dish of ginger curry roasted cauliflower was the highlight of our meal.
I've been making roasted cauliflower with curry powder for ages, but the simple addition of ginger really kicked up the flavor and had me immediately wishing I made a double batch. The cauliflower disappeared in a flash!
Ginger Curry Roasted Cauliflower
Makes four side-dish servings
Ingredients:
1 head cauliflower, trimmed and cut into florets
1 tablespoon olive oil
1/2 teaspoon ground ginger
1/4 teaspoon curry powder
1/4 teaspoon garlic salt
Directions:
Preheat oven to 375 degrees
Toss everything together in a bowl and pour onto a baking sheet sprayed with cooking spray
Roast in the oven for 25 – 30 minutes
Though the head of cauliflower I chopped up wasn't too big, Ryan and I had no problem polishing off the entire thing between the two of us. We loved this dish and were really hungry, but I'd say that under normal circumstances the recipe would likely yield four side-dish servings.
Breakfast
This morning I awoke in a pancake mood!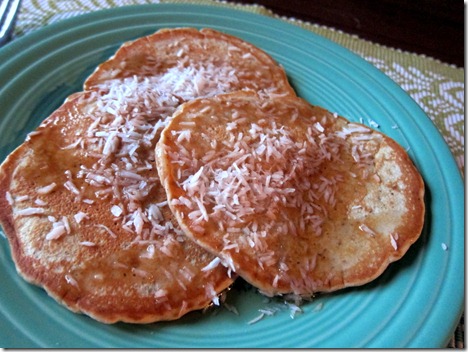 I made a batch of almond butter pancakes topped with shaved coconut and a bit of syrup.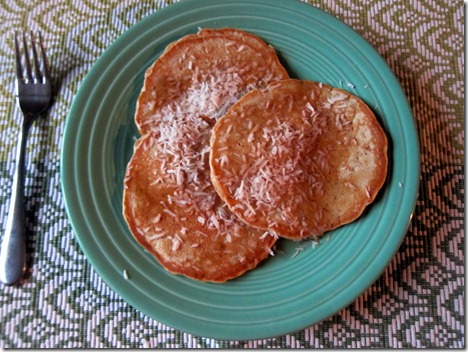 Plus some extra-foamy coffee on the side!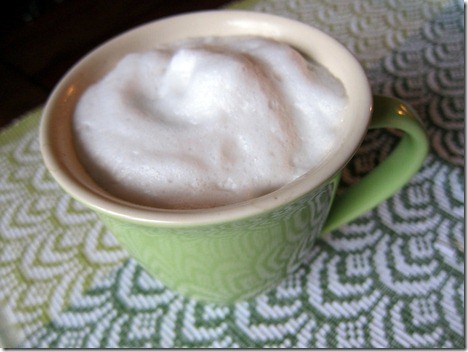 Yesterday I rediscovered my Aero Latte milk frother and, as I said on Instagram, felt awfully fancy as I sipped a cup of frothy coffee at my desk. Naturally I had to repeat the fun this morning!
A little extra foam makes a normal cup of coffee feel extra special. It's the little things!