Good morning!
I hope you're feeling well-rested today! I don't have to go into work until later this morning, so I jumped at the chance to sleep in a bit.
Once I woke up, I reheated the eggs I prepared last night. As I made dinner yesterday, I thought I had to work the early shift at the gym again today and simultaneously prepared breakfast for myself. After checking my schedule on my phone before bed, I realized my error but took advantage of my prep work this morning and ate the eggs anyway.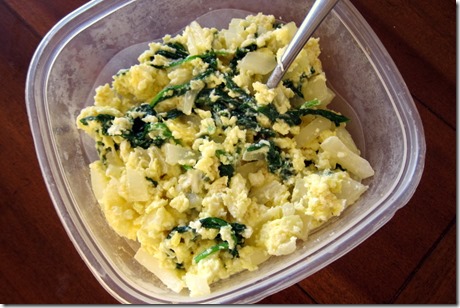 Eggs + Shredded cheese + Onion + Spinach
Plus a hot cup of coffee on the side!
I will be heading out the door soon to train a client and tackle my own workout for the day. I'll see you crazy kids after lunch!
Now for some blog talk…
Switching from Google Reader to Bloglovin'
If you're a big-time blog reader like me, you've likely heard the bad news about Google Reader. (For those of you who may be in the dark about Google Reader, it is a website that allows blog readers to read their favorite blogs in one place.) Google Reader is shutting down on July 1.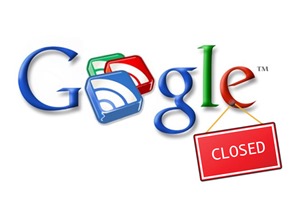 I've been in denial and have been reading all of my favorite blogs in Google Reader ever since I heard the news, but during the nearly eight hours of flight delays I experienced last week as I traveled to San Francisco, I began to do a little research and signed up for Bloglovin'. Another similar website that has received a lot of praise is Feedly, so you might want to check that out as well.
Both Bloglovin' and Feedly import your previous Google Reader feed, making it easy to continue to follow your favorite blogs in one place.
Also, if you're a blogger and want to add the "follow this blog with bloglovin'" button you see on the right hand side of my blog, you can click here for a tutorial. 

Simply click the icon and type in the name of your blog. Then click "how to put this icon on your blog" and follow the instructions. Since I use WordPress, I just copy and pasted the HTML code into a text box and then dropped the text box widget into the side bar to the right of my blog. (Check their tutorial. I promise they make it simple!)
I still haven't downloaded the Bloglovin' or Feedly apps on my phone yet, so I'm hoping they are user friendly!
If you're looking for more blogging-related posts, here are a few I've published on the blog in the past:
Question of the Morning
How do you read blogs? Email subscription? Visit the website directly? Through Google Reader, Feedly or Bloglovin'?
I almost always read blogs through Google Reader, though sometimes I just mark all of them as read when too many accumulate and visit my favorite blogs directly on the blog's website.