At long last, my gym had some new magazines on hand! I've made due with reading the same issues of Parenting and Better Homes & Gardens for too many weeks now.
(Ryan says he thinks I'm going to use the tips I learn in Parenting magazine on him. Like this one: If you want a kid to agree with your idea, ask them a series of questions to which you know they'll answer yes and then sneak in your real question. Parenting magazine: Offering manipulation tips galore!)
Today I grabbed a new-to-me issue of Women's Health from November 2011. An interesting magazine can make steady-state cardio go by so much faster.
My 20 minute warm up on the elliptical flew by. Before I knew it, my time was up and I was off to conquer this leg workout:

Right after I finished the three minutes of non-stop squats (inspired by my long lost love, BodyPump), I told Ryan that I am going to be sore tomorrow. I can already tell!
My body isn't used to doing endurance weight training like it was when I was doing BodyPump three times a week. (I miss BodyPump so much.
Breakfast
Breakfast today was fast and microwavable!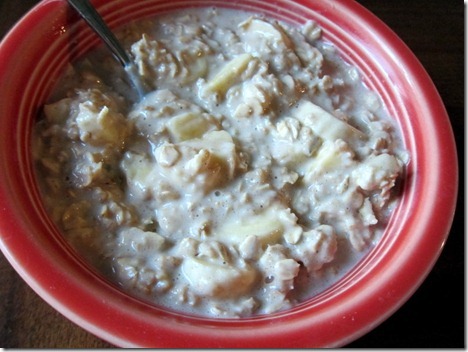 I combined oatmeal, milk and a scoop of (now discontinued) cinnamon bun protein powder in a bowl, heated everything for around three minutes, stirring regularly and adding more milk as needed.
I then sliced up a banana and stirred it into the mix.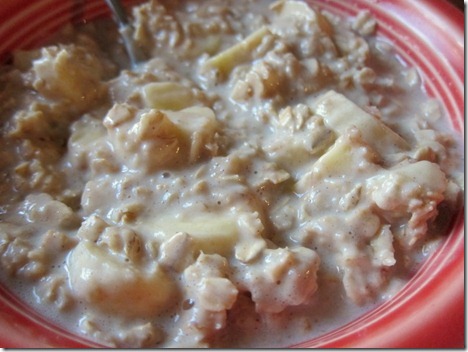 Apparently a cold front is headed our way this evening, so this breakfast may be in order tomorrow morning too when I'll need something to warm my belly!
Questions of the Morning
Do you ever read magazines when you workout?
What are your favorite magazines?
I love reading magazines when I'm on the elliptical! (I have trouble reading anything when I'm on the treadmill or really pushing myself hard.)