This pumpkin icebox cake is a sweet and creamy dessert that is easy to make and overflowing with cinnamon and pumpkin flavor. Simply whip up a batch of homemade cinnamon pumpkin whipped cream and layer it with Biscoff cookies for a festive fall dessert everyone will love!
Another pumpkin recipe!? I know, I know. I think I'm making up for the fact that I didn't do much baking with pumpkin last year thanks to our tiny little bundle of joy. Clearly I'm more than making up for it this year since I cannot help but incorporate pumpkin into everything! I'm 99 percent sure this will be my last pumpkin recipe this year and since it's the Final Pumpkin Recipe of 2016, you better believe it's a good one!
Back in the heat of the summer, I shared a recipe for a deliciously indulgent gluten-free double chocolate no bake ice box cake. The recipe name is a mouthful but it could not be any easier to make and when I signed up to contribute a dessert for last Saturday's chili cookoff, the icebox cake immediately popped into my mind. And then I had an idea… Could I pumpkinify the recipe and make a pumpkin icebox cake? (Let's just pretend pumpkinify is a word.)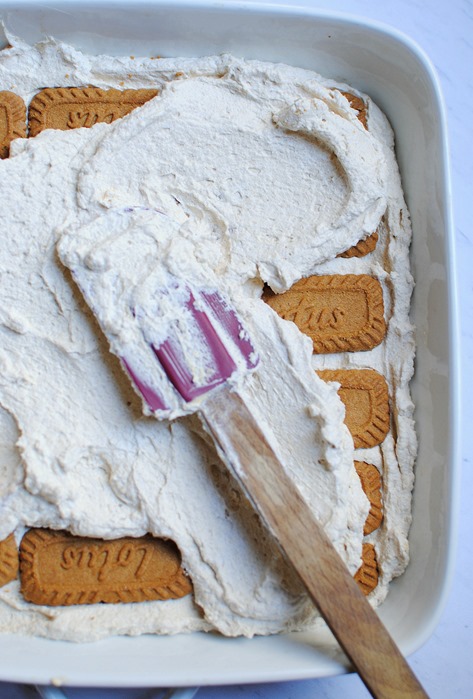 I had a feeling it would be a really easy recipe to morph into a festive fall dessert and rushed off to the grocery store after my workout on Saturday morning to pick up all the goods I needed to transform the recipe.
I began by making the whipped cream. Once the soft peaks formed, I added pumpkin puree and cinnamon to the whipped cream and W-O-W it was amazing! Why have I never made cinnamon pumpkin whipped cream before!? (FYI, I used a little bit of the leftover pumpkin whipped cream in my morning coffee and it was unreal. Do it!)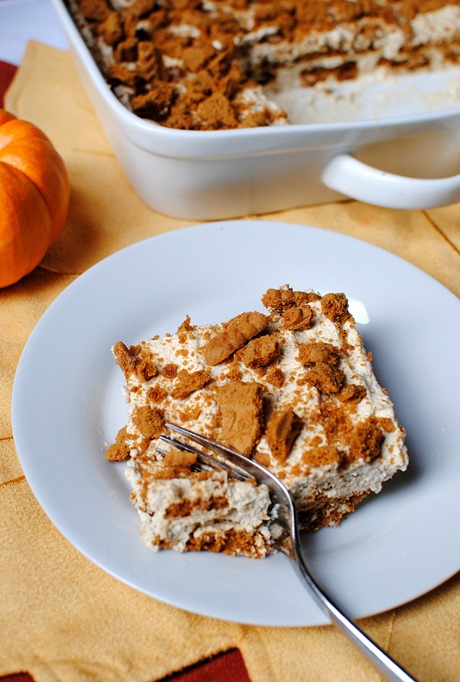 Now here's where the recipe gets fun! Please tell me you share my intense love for Biscoff cookies? They're SO good!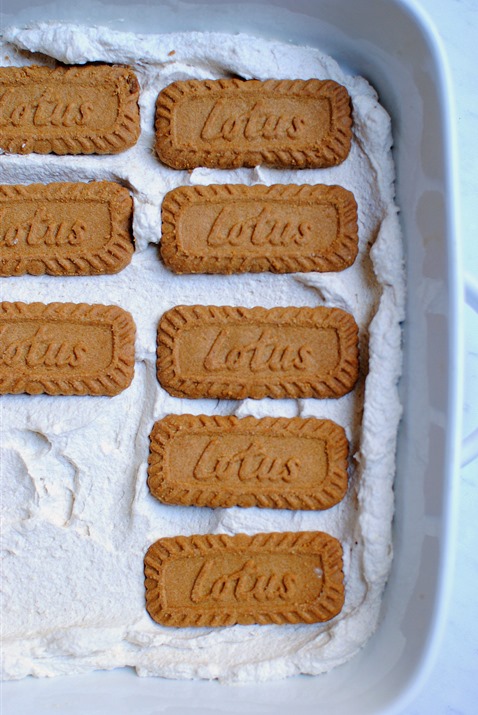 When I was traveling to Florida with Chase a week ago, I said "no thank you" when the flight attendant asked if I wanted a drink. This did NOT mean "no" to the Biscoff cookies, however, and when the flight attended rolled the cart away, I found myself sinking into my seat in cookieless despair.
And then Chase saved the day! He saw the woman next to us open her cookies and started saying "Mo! Mo!" (his version of "more") on repeat which caused the flight attendant to turn around and hand me a pack of the cookies. Hey thanks, Chase! Way to go buddy!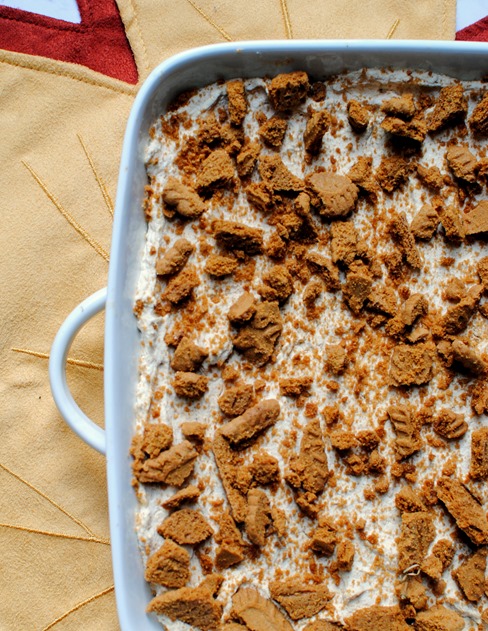 Okay, back to the recipe.
Once I opened two packs of Biscoff cookies (and inhaled a couple in the process), I layered the cinnamon pumpkin whipped cream with the cookies to create a tasty pumpkin ice box cake that got rave reviews from everyone at Saturday's chili cookoff. I knew I had to make it again on Sunday to photograph for the blog so I could share it with you guys! If you're looking for a fast dessert you can whip up for Friendsgiving or Thanksgiving in the coming week, keep this one on your radar!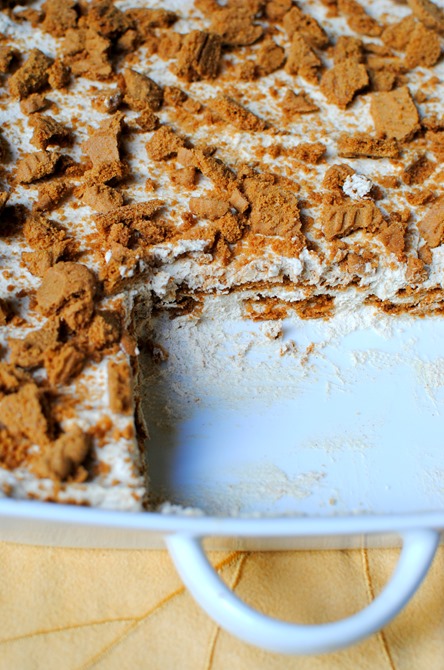 Pumpkin Ice Box Cake
Ingredients
3 cups heavy whipping cream
1/2 cup powdered sugar
3 1/2 teaspoons cinnamon
1/2 cup pumpkin puree
1 1/2 (8.8 oz) packages Biscoff cookies
Directions
Using a hand mixer or an electric mixer fitted with the whipping attachment, whip heavy whipping cream in a large bowl on low speed while gradually adding powdered sugar. Gradually increase speed as whipped cream thickens. Whip until cream is thick enough to hold its shape but not lumpy. Add pumpkin puree and cinnamon and whip until combined.
Spread a thin layer of whipped cream into the bottom of an 8×8 baking dish. Layer Biscoff cookies on top of the whipped cream (you may need to break a couple of cookies to get them to fit). Spread another layer of whipped cream and top with another layer of the cookies. Spread a final layer of whipped cream on top. Crush more cookies and sprinkle on top of the whipped cream.
Cover the dish and refrigerate overnight or for at least five hours to give the cookies time to soften a bit. When ready to serve, slice into icebox cake and serve immediately.
Note: Though I am partial to Biscoff cookies, I also think Gingersnaps, Snickerdoodles or another crispy ginger, cinnamon or vanilla cookie would work well in this recipe.