chocolate
to the batter, right?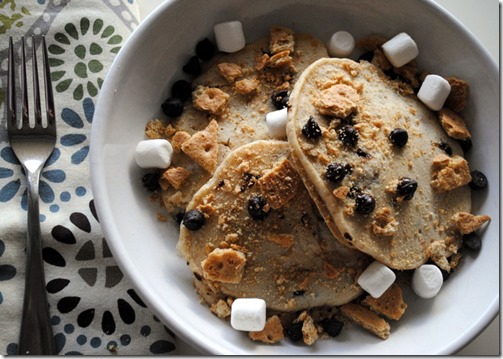 Yesterday morning I was the first one up and wanted to surprise my family with a delicious, comforting breakfast. Judging by the fact that no one left a single bite on their plate, I think I succeeded!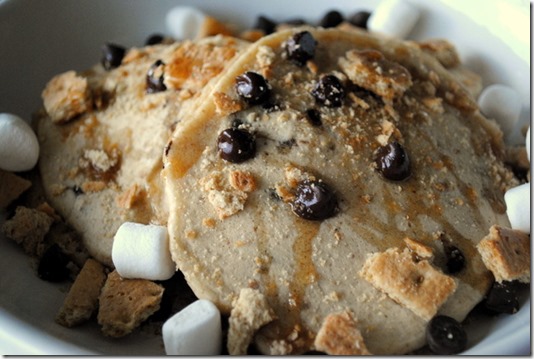 When my sister and I were growing up, our parents took us on camping trips all over Illinois and Wisconsin. We cooked every meal over a campfire and filled our days with bike riding, fishing and exploring. Of course every night had to end with s'mores and my sister and I fell in love with the ooey gooey treat at a young age. (Please tell me some of you out there have tried to make s'mores in the microwave.)
Since my sister shares my affinity for s'mores, I wanted to try my hand at incorporating the flavors from our favorite campfire snack into our morning meal.
Bring on the s'mores pancakes!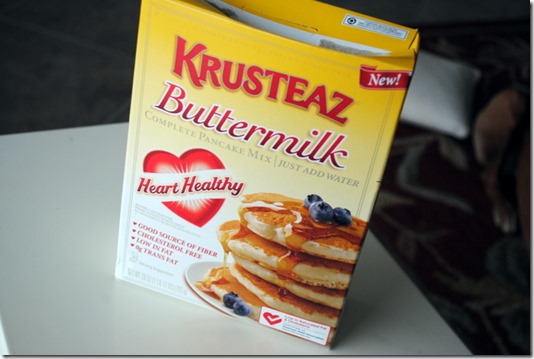 I added crushed graham crackers, chocolate chips and mini marshmallows to Krusteaz Heart Healthy Pancake Mix that the company sent to me to try. The end result was delicious! The pancakes were fluffy and packed with flavor.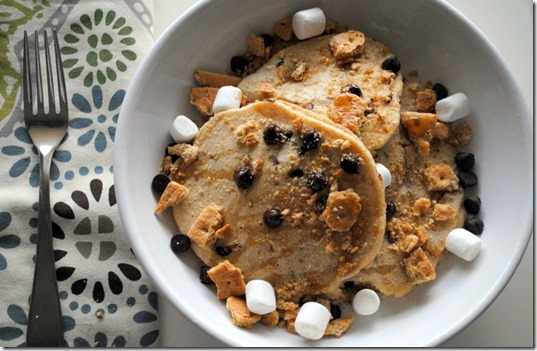 S'mores Pancakes
Makes 6 four-inch pancakes
Ingredients
1 cup Krusteaz Heart Healthy Pancake Mix
3/4 cup water
4 graham cracker sheets, roughly chopped
3 tablespoons semi-sweet chocolate chips
1/3 cup mini marshmallows
Optional: Additional graham crackers, chocolate chips and marshmallows for garnish
Directions
Combine all ingredients and stir until thoroughly mixed. Batter will be lumpy.
Heat griddle to 375 degrees (or heat a skillet over medium heat) and spray with cooking spray. Pour slightly less than 1/4 batter per pancake onto griddle.
Cook pancakes for approximately 90 seconds on each side, until golden.
Remove pancakes from pan and top with additional graham crackers, chocolate chips, marshmallows and syrup if desired and enjoy!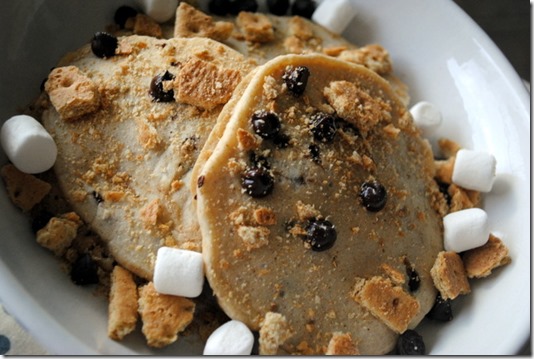 These pancakes were the perfect Sunday morning treat. If you decide to give them a go, I hope they transport you back to fun times around a campfire with your loved ones, too!
Question of the Morning
When was the last time you went camping? Any fun stories to share? 
Do you enjoy camping?
***

Disclaimer: This post is sponsored by Krusteaz. My love for s'mores is all my own.

Nothing screams Sunday morning like a lazy pancake breakfast in your pajamas. A good way to make Sunday morning pancakes feel extra special is to add a little