I ended up feeling "in the zone" as I started my leg workout and decided to skip the class and instead completed this leg workout:

It feels like it has been a while since I've completed a quality leg workout since I was taking it easy on my legs after my half marathons, so it was nice to feel the burn in my hamstrings and quads again.
I also couldn't help but notice how much sweatier I was after this workout because I was wearing a t-shirt instead of a tank top. I can work out in yoga pants or capris without overheating but the minute I start working out in a t-shirt, I feel much more restricted and immediately wish I was wearing a tank top. Apparently my armpits and shoulders need to breathe.
My face is also by far the sweatiest part of my body when I workout, so maybe I just need to keep things cooler up top? Do any of you notice something similar? Ryan is actually the opposite and said if he wears warm up pants to the gym, he sweats like a beast, while wearing a t-shirt doesn't bother him in the least. 
Funky bodies.
Breakfast
After the gym and a quick shower, it was breakfast time!
I made scrambled eggs by combining three eggs, shredded cheese and almond milk in a bowl before cooking them up on the stove top.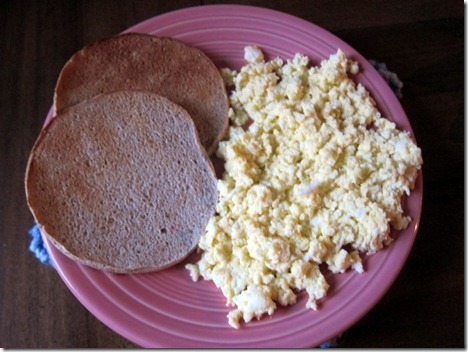 The almond milk definitely changed the texture of the eggs. I was worried they wouldn't set, but eventually they did and came out fluffy and delicious, though a bit runnier than usual.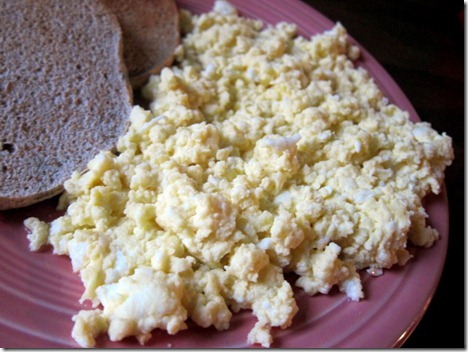 Served with toast, of course! 
Question of the Morning
Do certain types of workout clothes cause you to get overheated more easily than others?
Today I had plans to take a 30-minute strength class at the gym. I began my workout with 20 minutes on the elliptical and planned to do about five minutes of various strength training exercises concentrating on my legs before the class.