I have a new idea!
I typically workout on Saturdays, leaving Sundays as my rest day. Ryan and I will often head to the gym for a workout an hour or two after waking up on Saturday mornings.
This morning, we were up by 6:30 a.m. (Sadie was being a menace) and were at the gym right when it opened at 7 a.m.
It was awesome. The longer I put off going to the gym during the day, the less likely I am to go (and if I do go, my workout is often subpar).
Well, I think heading to the gym as soon as I wake up on Saturday mornings in the answer. When I give myself a few hours to cuddle up on the couch and relax in the morning, my workout mojo goes out the window.
This morning, my workout was comprised of various strength exercises for a total-body weights workout that looked like this:
| | |
| --- | --- |
| Step-ups | 15 lbs. |
| Shoulder raises | 10 lbs. |
| Deadlifts | 25 lbs. |
| Bicep curls | 15 lbs. |
| Tricep dips | Bodyweight |
| Ryan's awesome shoulder move | 8 lbs. |
| Leg extensions | 35 lbs. |
| Hamstring curls | 35 lbs. |
| Crunches on exercise ball | Bodyweight |
I did three sets of 15 reps of all of the above exercises (except the crunches – I did 50 of those) and super-setted them to save time and keep my heart rate up. (Just incase you're unsure of what super-setting is, it is completing two exercises in a row without a break.)
Since Ryan was taking for-ev-errrr in the gym this morning, I zoned out on the elliptical for 15 minutes waiting for him to finish. When he was still not done, I walked home to get a jump start on this blog post.
While sitting in the backyard, playing with Sadie and typing away, my loving husband snuck around and scared the heck out of me!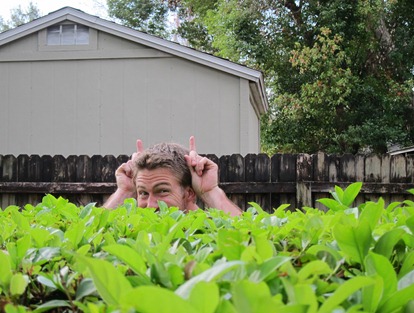 He's lucky I didn't have my pepper spray on me or he would've been blasted!
Breakfast
Since Ryan and I have plans to go hiking this morning, we wanted to keep breakfast fast and portable.
Smoothies fit our two requirements perfectly.
In the mix:
1 scoop chocolate protein powder
1 handful spinach
1 frozen banana
1 c. milk
1/2 tbsp. cocoa powder
1/2 packet instant coffee
1 pinch xanthan gum (for thickening)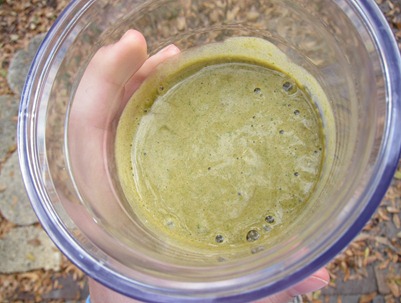 It was a mocha green monster!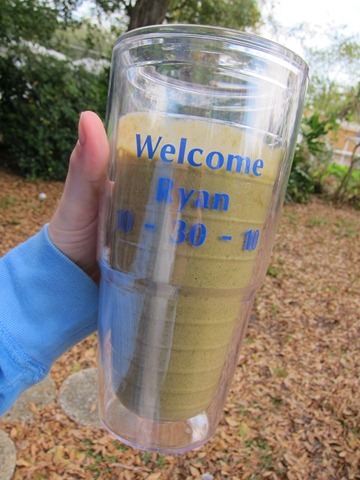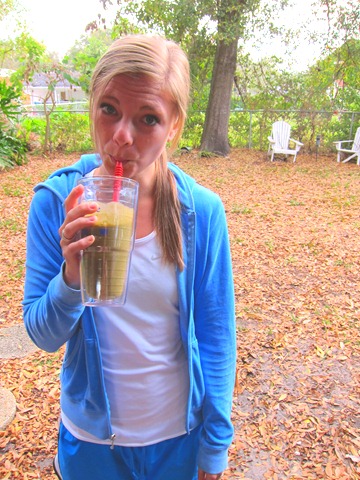 Just in case you're in the mood for a green monster, here are some of my favorites:
I'm sippin'on mine as I wrap up this post. Gotta hit the road. I'm excited for some trail hikin'!
I think someone else is too…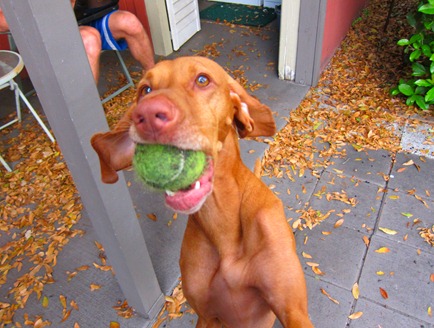 Weeeee!