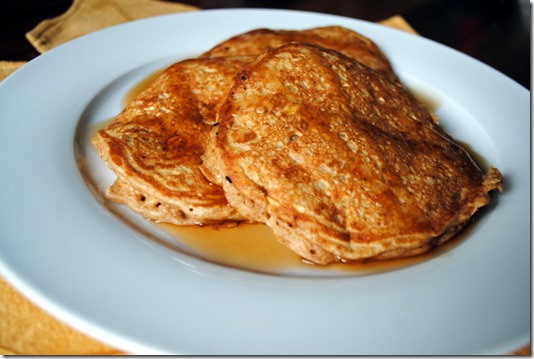 Ryan and I love beginning our Sundays curled up on the couch with a plate of pancakes on our lap. It's a nice change from the rush of most mornings in our house and we savor a quiet, slow morning together.
This morning, a batch of almond butter oatmeal pancakes found their way onto our plates and we loved their slightly nutty flavor.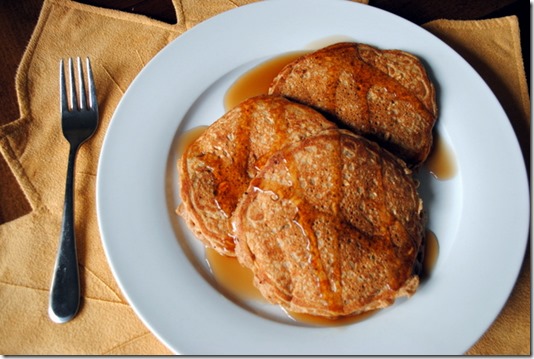 Top 'em with a bit of maple syrup and you're good to go!
Almond Butter Oatmeal Pancakes
Makes six pancakes
Ingredients:
1/2 cup old fashioned oatmeal
1/2 cup whole wheat flour
3 tablespoons almond butter
2 1/2 tablespoons vanilla Greek yogurt
1 tablespoon honey
1 egg
1/2 teaspoon baking soda
1/2 cup almond milk
Directions:
Combine oatmeal through baking soda in a bowl and stir together. Add almond milk and stir until relatively smooth.
Heat a griddle sprayed with cooking spray to a medium heat. Pour batter onto griddle and allow to cook until each side is slightly browned.
Remove from griddle, top with syrup and enjoy.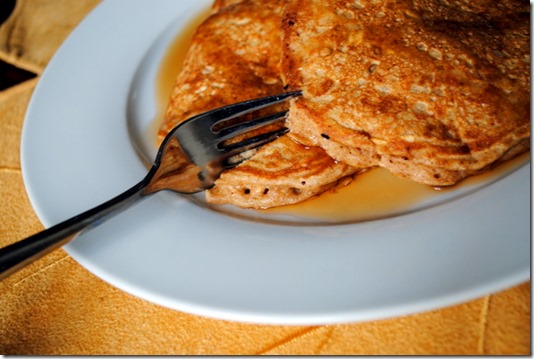 Enjoy the rest of your weekend!

***

A few more of my favorite pancake recipes:

I hope I caught you before breakfast this morning because the Sunday morning pancakes that we just inhaled in our house are worth recreating!