This crock pot turkey and mushroom bolognese sauce is a healthy, filling and flavorful sauce, perfect for a hectic weeknight dinner. Serve it on top of pasta, zucchini noodles or your favorite ravioli for a deliciously easy meal!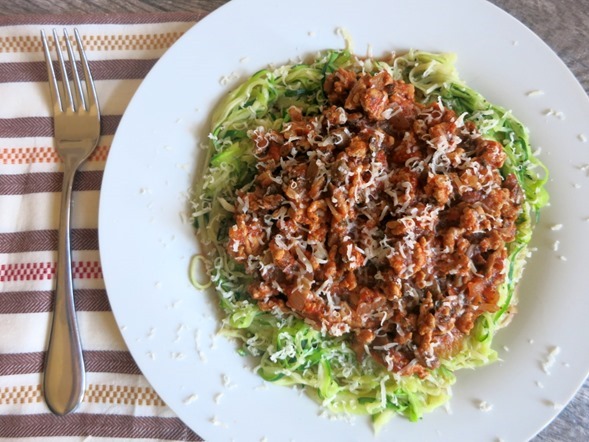 A couple of weeks ago, I made a turkey and mushroom bolognese sauce on the stove top that Ryan and I both absolutely loved. I had a feeling the sauce would work well in the crock pot, and perhaps taste even better since it would have more time for the flavors to develop as it slowly cooked all day long, so I decided to give it a shot.
The first time I attempted to make this recipe in the crock pot, it was a bit of a disaster. I tried to really shortcut it and basically dumped all the ingredients into the slow cooker, stirred them up every so often and hoped for the best. Though we still ate the end result, the texture wasn't my favorite and tasted almost mealy. Something had to change and I had a feeling it was going to take a little more work.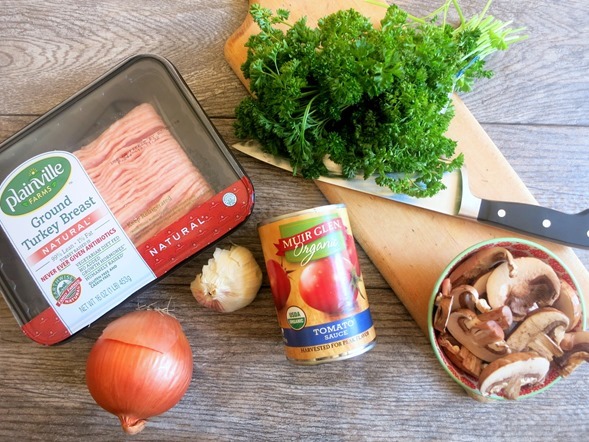 Call me suuuuper lazy, but I hate it when crock pot recipes make you brown meat ahead of time or cook something before you put it in the crock pot. Isn't the whole point of the crock pot to cook things for you and feed into our laziness!?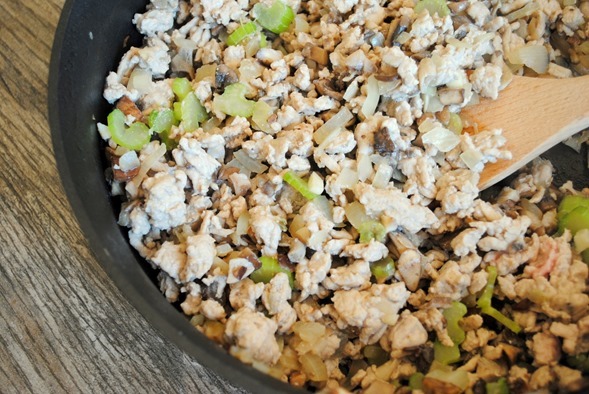 So, I went against everything I believe a slow cooker should be and actually browned the darn turkey before putting it in the crock pot and – wouldn't you know – it made all the difference in the world. Our weird mealy bolognese sauce was transformed into the most delicious sauce and I now realize that taking an extra step and washing an extra pan or two might really be worth it for a delicious crock pot dinner.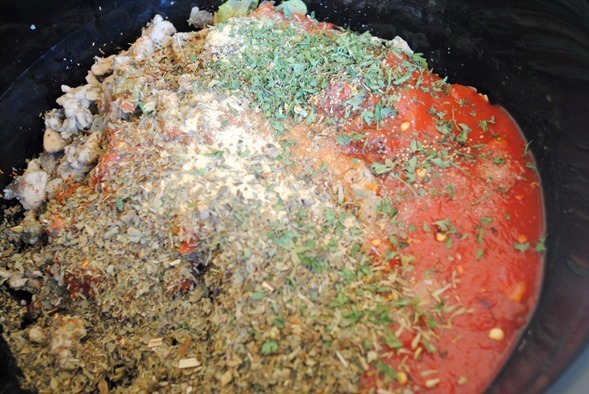 I've made the sauce three times since our initial blunder and we've enjoyed it on top of whole wheat spaghetti, four-cheese ravioli and zucchini noodles.
To make the zucchini noodles, I cut the ends off the zucchini before spiralizing them. I then quickly sautéed the zucchini noodles in a little bit of olive oil and seasoned them with salt and pepper.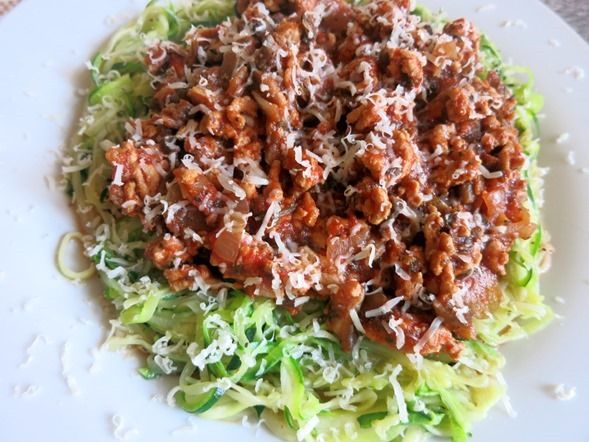 (FYI, I bought this super-cheap $7 spiralizer off Amazon because I wasn't sure I'd be totally into the whole veggie "noodles" thing and didn't want to spend a ton of money. It works well enough and we actually love zucchini and squash "noodles" in our house now!)
The sauce can also be made with ground chicken or lean ground beef – we love the ground beef version – and truly makes the whole house smell wonderful. It's the perfect sauce to make for dinner on a chilly winter night!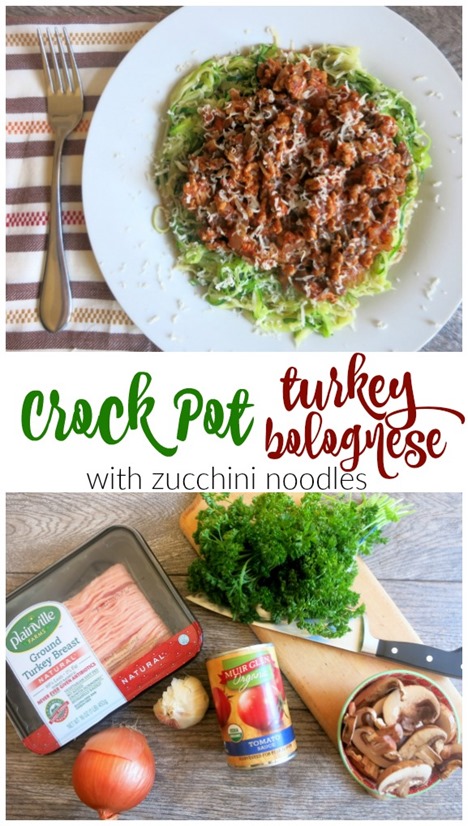 Crock Pot Turkey Mushroom Bolognese Sauce
Makes 4 large servings
Ingredients
1 pound ground turkey
1 tablespoon olive oil
2 cups chopped portobello mushrooms
2 celery stalks, diced
1 yellow onion, diced
2 garlic cloves, minced
1 15-ounce can tomato sauce
1 teaspoon garlic powder
1 teaspoon dried oregano
1 teaspoon dried thyme
1 teaspoon dried parsley flakes
1 tablespoon dried basil
1/2 teaspoon garlic salt
1/4 teaspoon freshly ground black pepper
1/8 teaspoon cayenne pepper
pinch red pepper flakes
Directions
Heat olive oil in a large pan over medium heat and add mushrooms, celery, garlic cloves and onion. Sauté until onions become translucent, approximately 3-4 minutes.
Add ground turkey and cook until meat is no longer pink, breaking up and large pieces.
Transfer ground turkey into crock pot and add remaining ingredients. Stir everything together, cover and allow to cook 4 – 6 hours on low.
Spoon over pasta, zucchini noodles, ravioli, etc.
Enjoy!