This used to happen to me a lot more often when I hit the gym after work, but at 5:30 a.m., the weights or machines I want to use are usually available.
Today that simply wasn't the case. Apparently it was Squat Rack Wednesday at the gym this morning because for the entire time I was at the gym, the two squat racks were occupied.
Ryan always says that when the weights or machines he wants to use are occupied, he takes it as a challenge to do a new exercise or think outside of the box. I look at it as a fantastic opportunity to walk by the weights several times, sighing in annoyance so they'll stop hogging the machine and let me do my thing.
I'm just kidding, I promise!
I've tried to adopt Ryan's tactic as well. This morning revamping my LiveFit leg workout a bit proved quite successful because I left the gym feeling like I got a great leg workout.
Links to descriptions of some of the moves:
It was one of the best leg workouts I've had in quite some time.
Breakfast
When Ryan and I arrived home from the gym, we ate a quick breakfast before taking Sadie on a walk around the neighborhood.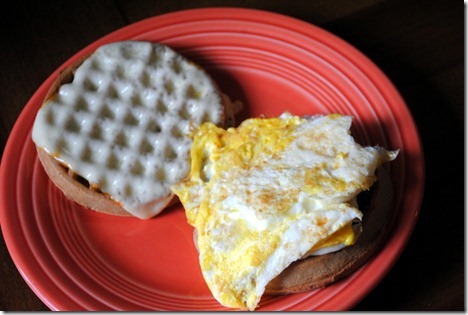 I topped two toasted Van's waffles with muenster cheese, raspberry jelly and two fried eggs.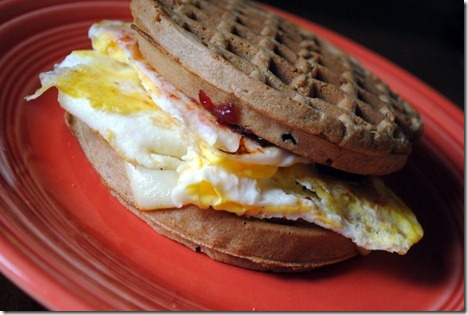 For some reason the cheese tasted extra delicious this morning. Mmm!
Of Possible Interest
Question of the Morning
What do you do when you're unable to do the workout you originally planned? Throw in the towel? Try out something new?
Do you ever have a workout completely planned out and then you're forced to change it because certain machines or weights are occupied at the gym?