sweets
,
drinks
and lazy beach days, I'm looking at today as a fresh slate. Vacations are amazing, but my body definitely feels the effects of some less-than-stellar eating and I'm anxious to fuel it with some healthier fare.
I definitely notice that eating sugar makes me crave more sugar. There were quite a few vacation days that started with snacking on leftover dessert or sweet treats before 9 a.m., causing my sweet tooth to run rampant for the rest of the day!
It was glorious, but I'm also ready to get my normal energy back.
Workout
Getting in the gym at 5: 30 a.m. wasn't too bad. I figured I'd be totally pooped, but Sadie woke me up at 4 a.m. to go outside to the bathroom and I tossed and turned in bed until the alarm went off an hour later. While I would've preferred a sound sleep for my last hour in bed, I think it made it easier to wake up since I wasn't really sleeping well anyway.
Today's workout began with 20 minutes on the elliptical while reading a magazine. Then it was time to workout my legs!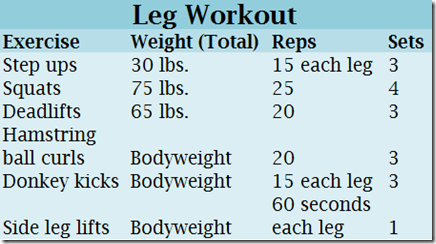 Pin It

This was a great return-to-the-gym leg workout. I would bet good money that I'm going to be sore tomorrow. I did the squats in a wide stance, so my quads were feelin' it!
Breakfast
Our food is extremely limited at the moment. A trip to the grocery store is necessary today!
Fortunately I had a pack of English muffins stashed in the freezer from when they were buy one get one free at Publix and made myself an egg, cheese and jelly sandwich.
Two fried eggs + Muenster cheese + Raspberry jelly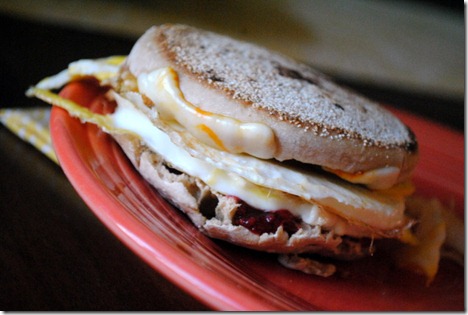 I was really cravin' fresh berries this morning to eat along with my breakfast sandwich, so I have a feeling a pint of blueberries will be one of the first things I pick up today!

I am also hoping to make some new-to-me dinners this week. I feel like I've been in a bit of a food rut lately, so if you have any go-to recipes you've been loving, please feel free to share in the comments section. I'm hoping to make some kind of a dinner meal plan before I head out to the grocery store so I don't revert back to buying all the same stuff I've been buying that's losing its luster.

After a vacation filled with lots of