Made with egg whites, ground flaxseed and almond milk, this recipe for oatless oatmeal is a nutritious and tasty alternative to traditional oatmeal for those who may be gluten-free, Paleo or simply looking for a satisfying high-protein breakfast.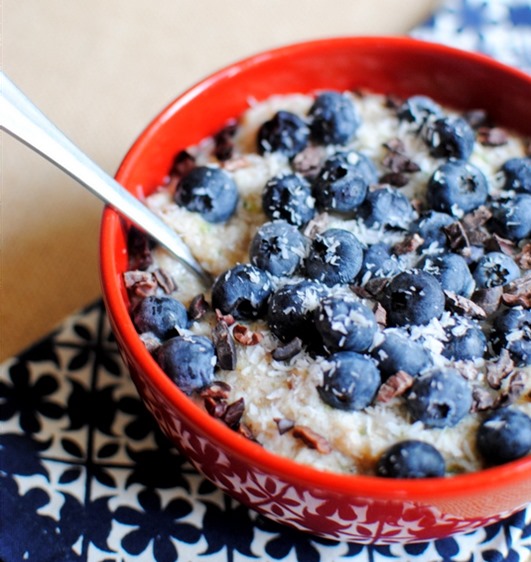 Are there any other Cream of Wheat fans out there? Cream of Wheat is a type of breakfast porridge made from wheat with an appearance and consistency very similar to grits. The flavor is quite mild, making it perfect for loading up with your favorite fresh berries, chopped nuts or creamy nut butter. Cream of Wheat and the little packets of flavored oatmeal were two of my favorite breakfasts when I was in high school. (Okay, Toaster Strudels were, too… with an extra icing packet, of course.)
For some reason my love for Cream of Wheat seemed to die when I went off to college. I never bought it after high school and never really thought about it much until this little gem of a recipe came into my life and reminded me of a sweeter (and healthier!) version of my childhood favorite.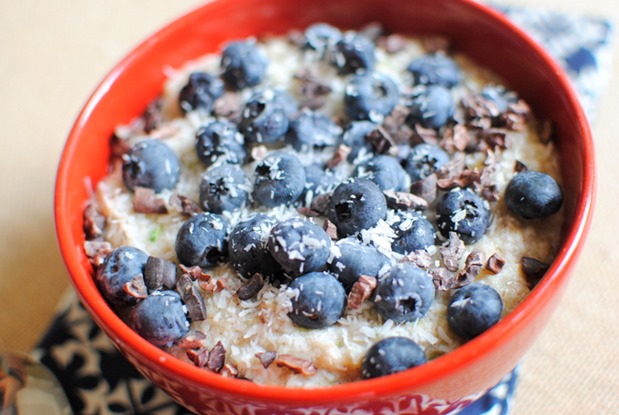 If you guys happened to read PBF a year or two ago, you may remember me falling in love with a recipe for oatless oatmeal. I have absolutely nothing against traditional oatmeal but love the way the oatless version seems to keep me feeling satisfied for longer thanks to an extra punch of protein from egg whites and a dose of healthy fats from ground flaxseed.
The other day, in an effort to break out of my all-frittatas-all-time habit (which I'm still totally loving, by the way), I decided to incorporate a little more variety into my morning meal in the form of my old favorite oatless oatmeal. When I shared a past oatmeal recipe on the blog (I think it was my three-minute egg white oatmeal?), Chelsea chimed in and encouraged me to add zucchini to the mix for an extra punch of nutrition.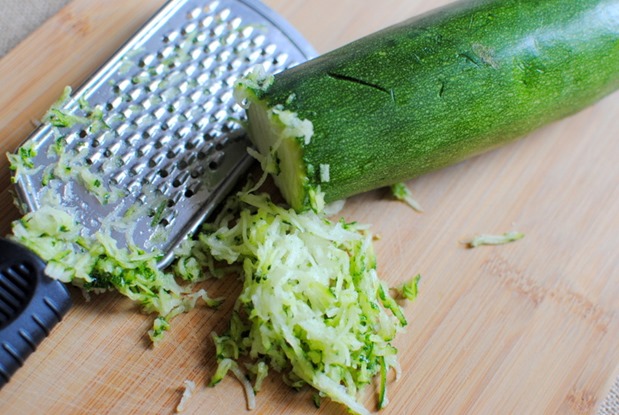 Chelsea swore I wouldn't be able to taste the zucchini and I decided to give it a go in my favorite oatless oatmeal recipe. The verdict? It was fantastic and totally undetectable. Heck yes!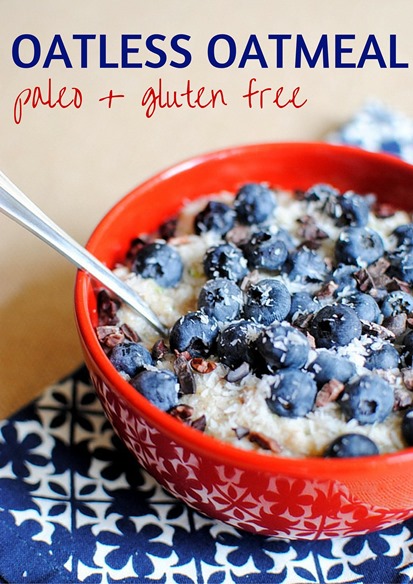 Oatless Oatmeal
Recipe adapted from Joelle's Paleo Oatmeal
Makes one large, voluminous serving
Ingredients
3/4 cup egg whites (I use egg whites from a carton)
3/4 cup unsweetened vanilla almond milk
1 1/2 tablespoon ground flaxseed
1/2 large (very ripe) banana, mashed
1/2 zucchini, grated
1/2 teaspoon cinnamon
Directions
Combine mashed banana and zucchini in a small bowl. Set aside.
Combine egg whites and almond milk in a small saucepan and stir with a spatula over medium heat. Add flaxseed and continue stirring until mixture begins to slightly thicken. Make sure to use the spatula to continually scrape the sides of the saucepan so mixture doesn't adhere to the pan.
Add banana-zucchini mixture and stir constantly as oatless oatmeal begins to thicken. (Do not walk away!) Add cinnamon, reduce heat and continue to stir until oatless oatmeal reaches desired level of thickness.
Top with desired toppings (berries, nuts, nut butter, unsweetened coconut) and enjoy!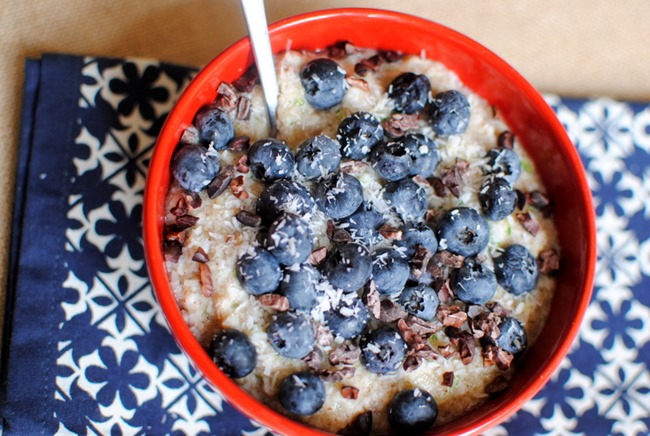 This oatless oatmeal recipe is a great one to try if you're looking for a voluminous, satisfying breakfast similar to oatmeal, but happen to be following a gluten-free or Paleo diet. It's naturally sweet thanks to the banana and the consistency is very similar to Cream of Wheat thanks to the egg whites and ground flaxseed. (Side note: Do not leave the ground flaxseed out of this one! It's key and must be ground!) I love topping my oatless oatmeal with peanut butter, fresh blueberries, unsweetened coconut and cacao nibs, but you can obviously play around with your favorite toppings and make it your own.
If you decide to give this one a try, I hope you love this recipe as much as I do!
More Oatmeal/Oatmeal-Inspired Recipes