Boy do I have a recipe for you this morning!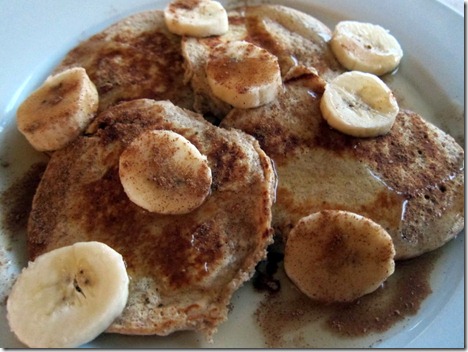 But first we must back up to last night.
Just after I published my evening blog post, our furniture was delivered.
Hooray! After living on the floor for nearly three weeks, it feels so good to sit on a couch.
I think Sadie agrees.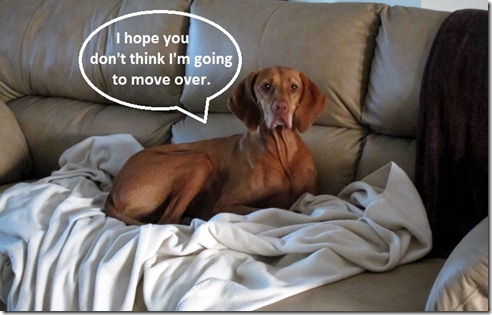 She's such a little sassafras. She hates sitting on floors (she flat-out refuses to sit or lay on hardwood or tile floors) and jumped on the couch within about three minutes of its delivery.
The delivery guys just laughed at her. She, in turn, refused to let them pet her.
That big white blanket is currently serving as our Sadie couch protector. We heard a bunch of different advice about what kind of couch to buy when you have a dog. We heard "definitely leather" because it's easy to clean but then we heard "definitely not leather" because dogs' nails can scratch it.
My parents and Ryan's mom have leather couches that have remained in tact despite Sadie crawling all over them, so we're hoping ours lasts forever as well. If she ruins it, we're taking the money out of her treat fund.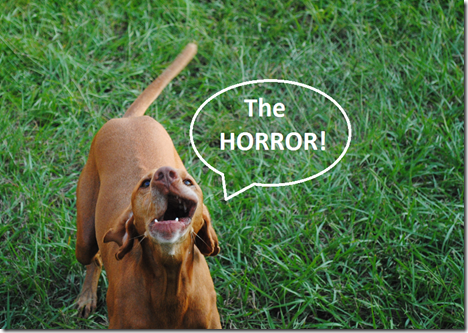 Workout
Today's workout included a 20 minute cardio session on the elliptical, followed by this upper-body weights workout:
| | | |
| --- | --- | --- |
| Exercise | Reps | Sets |
| Chest press | 20 | 3 |
| Bicep curls | 15 | 3 |
| Tricep dips | 15 | 3 |
| Upright rows | 15 | 3 |
| Lat pull downs | 15 | 3 |
| Tricep pull downs | 15 | 3 |
| Overhead press | 15 | 3 |
| Front shoulder raises | 15 | 3 |
| Bicep curls | Non-stop for 3 min. | 1 |
| Tricep extensions | 15 | 3 |
| Pushups (on my knees) | 15 | 3 |
The pushups at the end of this workout were killer. I guess that shouldn't surprise me seeing as how pushups own me, but doing them at the end of this workout really made my arms shake.
Breakfast
Breakfast this morning was one of the best meals I've had in a while. And it was healthy to boot.
I present to you, banana bread protein pancakes!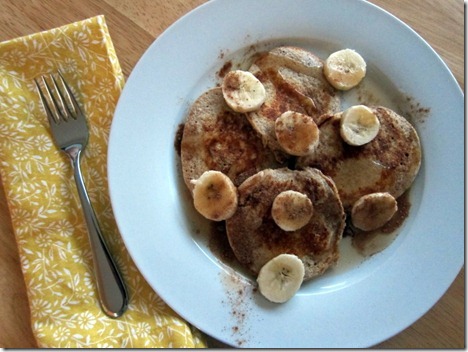 Oh baby.
The recipe is very similar to the pumpkin protein pancakes I made earlier this week, but I was actually even more enamored with this creation. The pancakes honestly tasted like banana bread.
Banana Bread Protein Pancakes
Serves one
Prep Time: 5 minutes
Cook Time: 5 minutes
Ingredients:
1/2 cup old fashioned oats
1/2 banana, mashed
1/4 cup cottage cheese
1 egg
1/2 teaspoon cinnamon
Directions:
Spray pan with cooking spray and heat to a medium heat
Combine all ingredients in a small bowl and blend with an immersion blender until batter is relatively smooth and all ingredients are fully mixed
Pour batter onto the warm pan to form four medium-sized pancakes
Allow to cook until edges start to harden, about three minutes
Flip pancakes and allow to cook until batter is no longer runny, about two more minutes
Top with syrup, pumpkin pie spice and banana slices and enjoy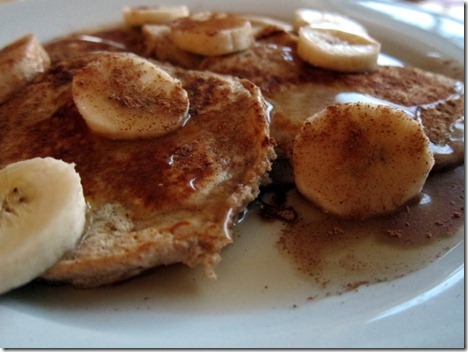 For those of you who are terrified of cottage cheese, rest assured you cannot taste it in these pancakes one tiny bit and all the lumps are annihilated from the immersion blender. And yes, I just used the word "annihilated" when referring to making pancakes. What is this? Some kind of a video game?
Off to tackle today's to-dos.
Happy Friday!!!