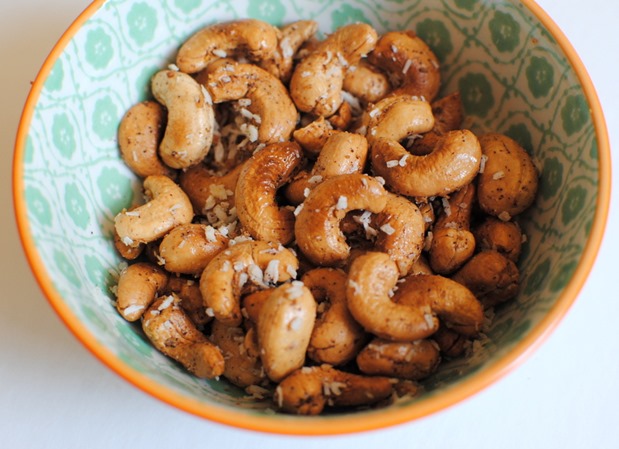 Ryan and I always have a variety of nuts on hand and I love experimenting with different flavor combinations when roasting nuts on my own. (These sweet and spicy roasted almonds are our go-to!) Over the weekend I whipped up yet another batch of roasted nuts and turned to one of my favorite flavor duos: Cinnamon and coconut!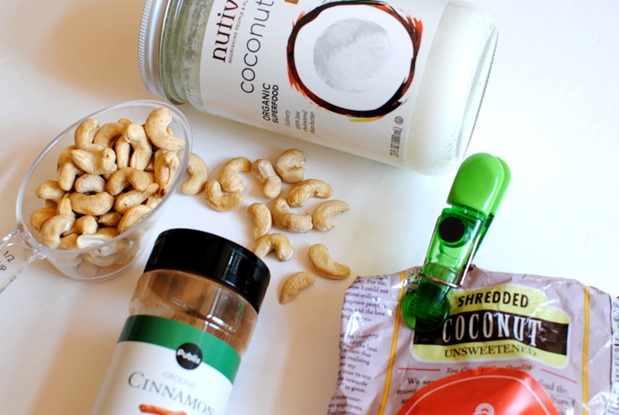 We ended up loving the cinnamon coconut roasted cashews so much that I made another batch yesterday afternoon! Like most recipes I share on this blog, this recipe is an easy one that comes together in a flash. If you're a coconut lover, please add this one to your "must make" list!
I opted out of adding any sugar to the nuts, but you can sweeten them up a bit by adding a splash of maple syrup to the mix before roasting, if desired.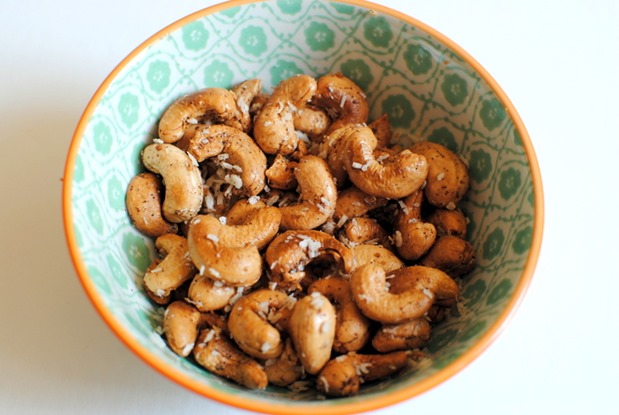 Cinnamon Coconut Roasted Cashews
Makes four 1/4 cup servings
Ingredients
1 cup raw cashews
2 teaspoons coconut oil (melted)
1/2 teaspoon cinnamon
1 tablespoon unsweetened shredded coconut
Splash maple syrup (if desired)
Directions
Preheat oven to 325 degrees.
Toss cashews, coconut oil and cinnamon together in a small bowl. Spread out on a cookie sheet sprayed with cooking spray and roast for 10 – 12 minutes, flipping halfway through.
Remove from the oven, toss with unsweetened shredded coconut, cool and enjoy!
These nuts taste great on their own as a quick and easy grab-and-go snack and also make a great addition to a bowl of oatmeal or a creamy cup of Greek yogurt. If you decide to give them a try, I hope you love them!

Roasted nuts are a staple in our house.