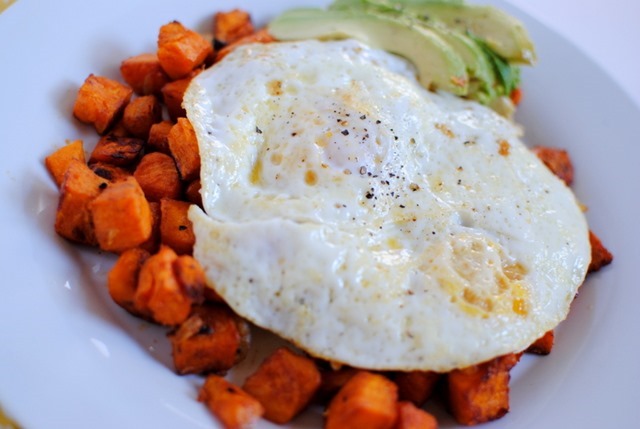 Hello, breakfast sweet potatoes!
On Sunday morning, after a short, chilly walk with Sadie, Ryan and I arrived home in the mood for a hot, hearty breakfast that would fill us up and warm our bellies.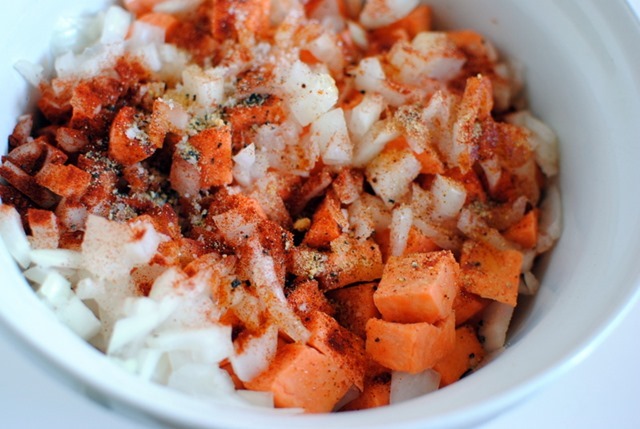 Ryan was on egg duty while I tackled the potatoes. The prep work was minimal since I previously purchased a big container of cubed sweet potatoes from the grocery store earlier in the week and simply had to season them and cook 'em up!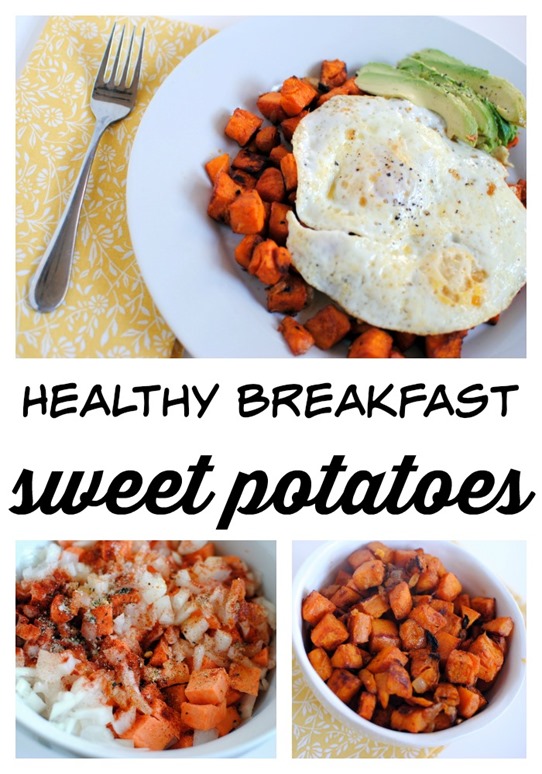 Healthy Breakfast Sweet Potatoes
Makes approximately 8 – 10 side servings
Ingredients
5 cups peeled and cubed sweet potatoes (approximately 1 3/4 pounds)
2 tablespoons olive oil
1/2 teaspoon sea salt
1/4 teaspoon freshly ground black pepper
1 teaspoon paprika
1/2 large onion, diced
1/4 teaspoon garlic powder
dash cayenne (optional)
Directions
Preheat oven to 400 degrees.
Place sweet potatoes and all remaining ingredients in a large bowl. Toss to coat.
Pour onto a baking sheet and bake for approximately 40 – 45 minutes, flipping regular to ensure potatoes are evenly cooked.
I'm happy I made a big batch of the potatoes because we had them for breakfast and dinner on Sunday. They were great with eggs in the morning and also as a side dish with our Sunday night burgers!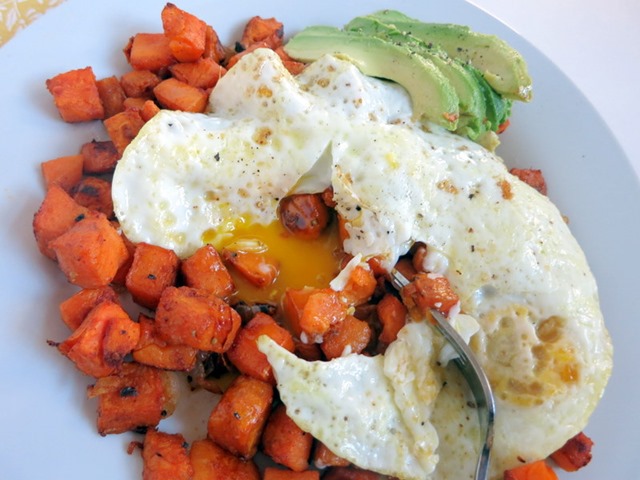 On Sunday this weekend, I'm hoping to take the time to prep up another batch of these sweet potatoes to have on hand to reheat with breakfast or dinner throughout the week next week. These breakfast potatoes are packed with vitamin A, vitamin C, potassium and fiber thanks to the beautiful orange sweet potatoes, so they're a warm and delicious side dish you can feel good about eating. (If you have access to purple sweet potatoes, I think preparing this recipe with a combination of orange and purple sweet potatoes would make the dish all the more eye-catching and appealing!)

I hope you love them as much as we did!

I have a mouth-watering (and healthy!) recipe to share with you guys today. Like most recipes I share on this blog, it's a recipe that requires minimal ingredients and only a short amount of time in the kitchen.