This recipe for Sheet Pan Paleo Salmon with Rosemary Roasted Potatoes and Green Beans answers the question "What's for dinner?" with a simple one-pan meal. A combination of flaky salmon, crispy roasted potatoes and fresh green beans make this a satisfyingly flavorful recipe.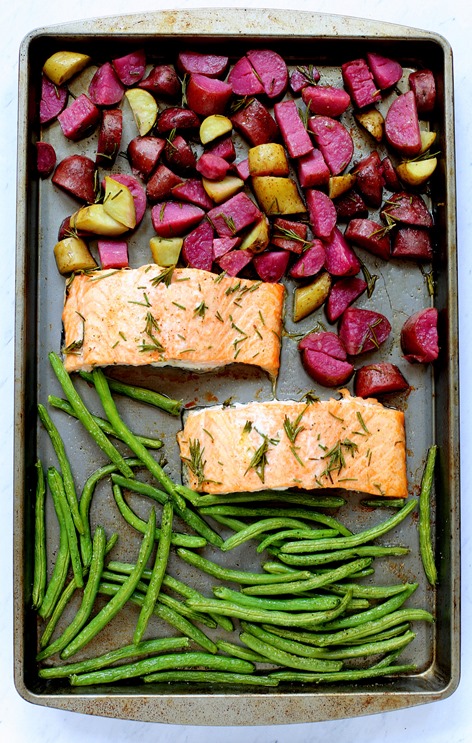 Fact: Laziness inspires a LOT of recipes in our house. A lack of desire to do dishes is the driving force behind an embarrassing number of dinners we make (this Paleo-friendly one pot chicken cabbage bowl is a favorite for that very reason!) and today's recipe was also born out of my desire to limit the number of pots, pans and cutting boards we'd need to clean after we were done eating.
And that's where one-pan and one-pot recipes come into play!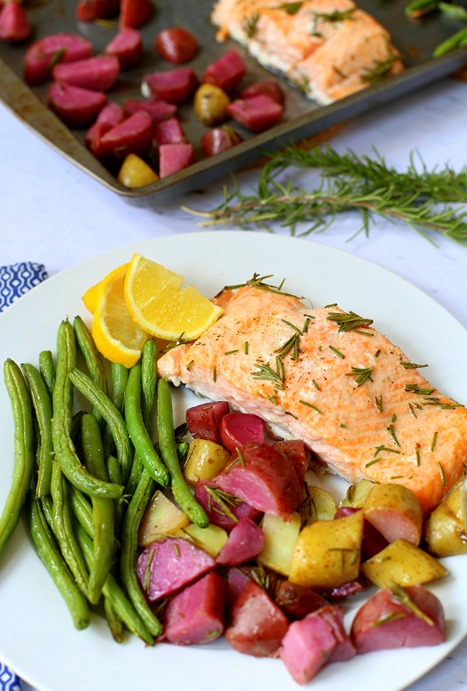 Okay, so this dinner is technically a one-pan and a one-pot recipe, but the part of the recipe that requires the use of a pot can be prepped ahead of time if you're looking for a shortcut (which I always am).
I've seen "sheet pan" recipes popping up all over the place these days and every time I see one, I think, "YES! These are my people!" Even though all the bloggers and chefs out there may not be sharing sheet pan recipes because they hate doing dishes with a fiery passion like I do, I'm still happy to see them popping up all over the place simply because they are easy and that's just what I'm looking for on a busy weeknight.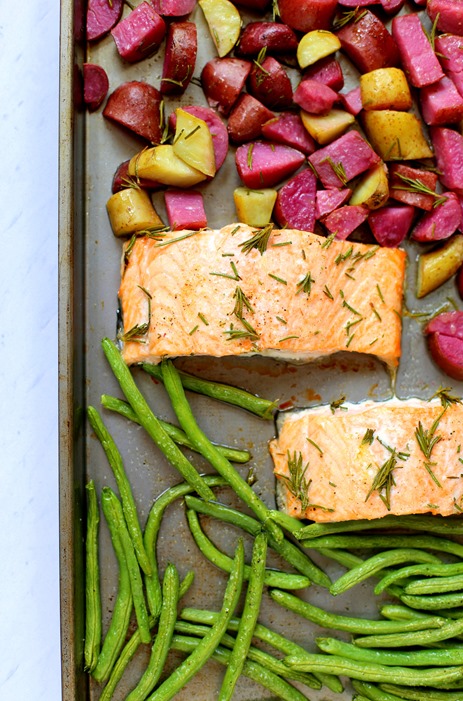 Today's sheet pan Paleo salmon recipe has quickly become a favorite in our house because it combines our love for flaky salmon with slightly crunchy green beans and hearty roasted potatoes. Three delicious foods roasting away on one pan!
To begin, you'll want to boil the potatoes so that they're ready to get nice and crispy on the outside when they're placed in the oven with the salmon and fresh green beans. (This is the step you can do ahead of time!)
Once you're ready to make dinner, everything comes together in a flash and assuming the potatoes were pre-boiled, you'll have a vibrant and healthy dinner ready for you in 20 minutes. Can't beat that, right!?
This recipe feeds two adults but can easily be doubled to feed four. I'll often double it when I make it for me and Ryan because I'm a big fan of leftovers for lunch the next day.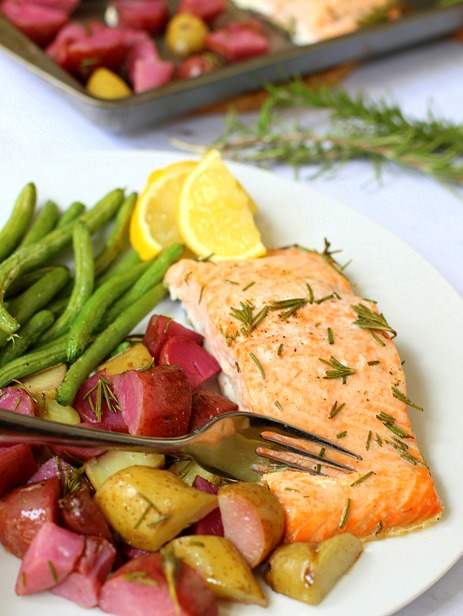 Sheet Pan Paleo Salmon with Rosemary Roasted Potatoes and Green Beans
Serves Two
Ingredients
1 pound fresh salmon, sliced into two filets
6 ounces fresh green beans, trimmed
3/4 pound fingerling potatoes, sliced into chunks
2 tablespoons ghee, melted
1/4 teaspoon garlic salt
3 heaping tablespoons fresh rosemary, chopped (one large bunch)
1/2 tablespoon olive oil
Salt and pepper, to taste
Directions
Preheat oven to 350 degrees. Heat a large pot of salted water to a boil. Add potatoes and cook until soft, approximately 15 minutes. Drain and set aside.
Combine melted ghee, garlic salt and fresh rosemary in a small bowl. Stir.
Spray a large sheet pan with cooking spray. Place the potatoes, salmon and green beans on the pan in an organized row.
Pour rosemary ghee mixture over the salmon and the potatoes. (You may need to use your fingers  to evenly distribute the rosemary since it tends to clump. Don't be afraid to get a little dirty!) Toss the potatoes in the rosemary ghee on the sheet pan.
Drizzle the olive oil over the green beans. Season with salt and pepper. Season the salmon and potatoes with additional salt and pepper to taste.
Bake for approximately 18-20 minutes, until salmon flakes with a fork and the outside of the potatoes are slightly crispy.
Nutritional Information
Per serving (1 salmon filet, 1/2 of the potatoes and 1/2 of the green beans): Calories: 503 / Fat: 20 grams / Sodium: 720mg / Carbs: 36g / Fiber: 3g / Sugars: 1g / Protein: 46g
Additional Paleo Recipes