Traditional overnight oats gets a vegan makeover with this recipe for Vegan Protein Overnight Oats. With 18 grams of protein per bowl, these dairy-free overnight oats are an easy recipe to prep ahead and can be doubled or even quadrupled for a simple breakfast you can quickly grab to enjoy before rushing out the door on a busy morning.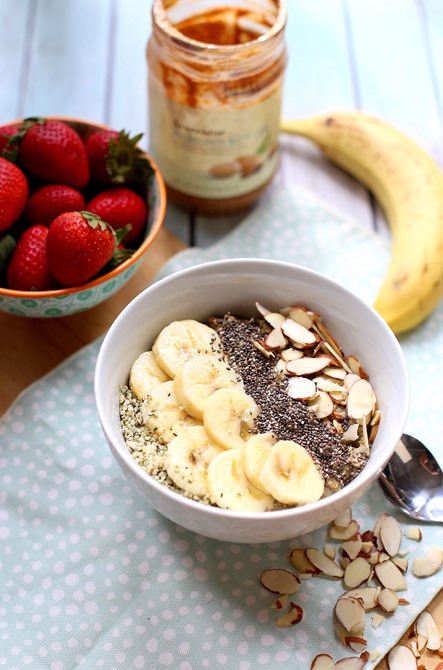 Cold and creamy overnight oats have been a breakfast staple for me for years, especially in the warmer months. This week we've been blessed with unseasonably warm weather – 70s and sunny – in Charlotte and that was all it took for me to begin craving overnight oats for breakfast again. On Sunday evening, I prepped a batch of overnight oats inspired by my High Protein Hemp Oatmeal (I told you I can't get enough hemp protein lately!) and when I realized the recipe was unintentionally vegan, I knew I had to share it on the blog.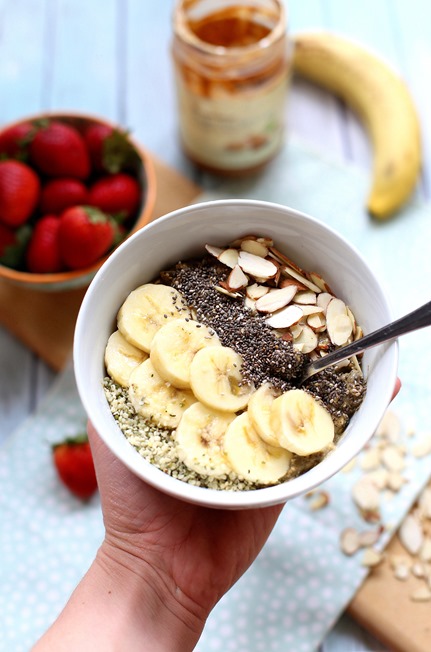 When I first began blogging about my various renditions of overnight oats on PBF years ago, I received numerous requests for dairy-free versions of the easy oatmeal dish that is often made with milk and Greek yogurt. My oatmeal cookie overnight oats was the first dairy free version of overnight oats I shared on the blog and it's still a go-to recipe for me. Today's vegan protein overnight oats is another dairy free version but this one is higher in protein thanks to the hemp protein powder and chia seeds. A plant-based high-protein delight!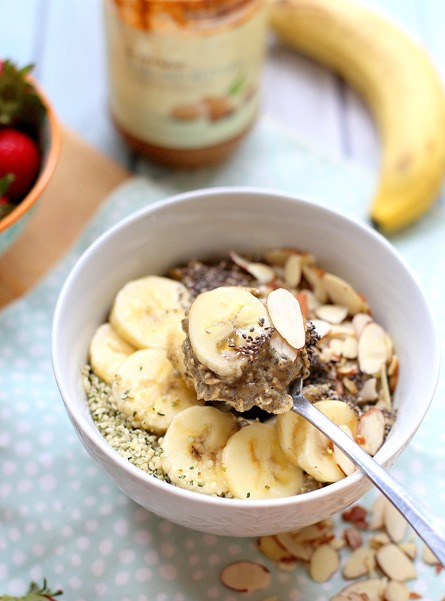 Vegan Protein Overnight Oats
Serves One
Ingredients
1/2 cup old fashioned oatmeal
1/2 cup almond milk
2 tablespoons hemp protein powder
2 tablespoons coconut milk non-dairy yogurt
1/2 ripe banana, mashed
2 teaspoons chia seeds
1/2 teaspoon cinnamon
1 teaspoon maple syrup
Directions
Combine all ingredients in a container, stir until everything is thoroughly mixed and seal with a lid. Place in the refrigerator overnight or for a minimum of three hours, until oats are softened.
Remove from fridge, stir and top with fresh fruit, nuts or a drizzle of nut butter. If you prefer a thinner batch of overnight oats, add a splash of milk to the oats until desired consistency is achieved. You may also add a bit more maple syrup if additional sweetness is desired.
Ingredient Notes
A few quick notes:
You should know that this recipe falls into the "looks gross but tastes great" category thanks to the army green hemp protein powder.
For the coconut milk non-dairy yogurt, I used So Delicious Cultured Coconut Milk Yogurt which is both delicious and vegan.
This recipe can easily be adapted for anyone who is not vegan or cannot easily find dairy-free yogurt. Simply substitute your favorite kind of milk for the almond milk and creamy Greek yogurt for the coconut milk non-dairy yogurt. (You may also omit the yogurt but may want to add a little more chia seeds to add additional thickness.) Your favorite protein powder may also be used instead of hemp protein powder.
Nutritional Information
Calories: 379 / Fat: 10g / Sodium: 182mg / Carbs: 61g / Fiber: 16g / Sugars: 16g/ Protein: 18g
Additional Dairy-Free Overnight Oats Recipes